Ice Fishing - Hayward, Wisconsin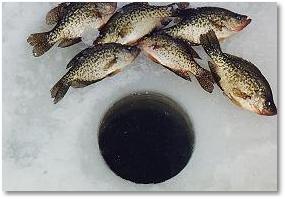 Ice fishing for Crappie, Bluegills, and Pike
***Fishing Guide Service On Most Of The Hayward Wi Area Lakes***
Experience some of the finest winter fishing on Wisconsin's premere wilderness lake, the Chippewa Flowage. Quite possibly one of the the best crappie and bluegill lakes in northern Wi.
The Chippewa Flowage is the 2nd largest lake in Wisconsin with over 15,000 acres, 233 miles of shoreline, and 140+ islands. The Chippewa Flowage was created in 1924. The damming of the Chippewa River joined the waters of 11 natural lakes, 9 rivers and countless streams. It's shoreline is primarily wild which will never be more than
15% developed. The "Chip" was historicly closed to all ice fishing for many years but now is open all winter for panfish and northern pike. With a huge population of crappies, bluegills, and northern pike and a great wilderness setting, ice fishing on the "Chip" is a very unique experience!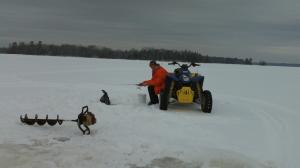 With over 60 years guiding experience between them, fishing guides John Myhre and Tim Duffy can provide you with a great fishing trip. We can also accomodate larger groups and company or corporate outings as well. All equipment including portable ice shelters and heaters is provided.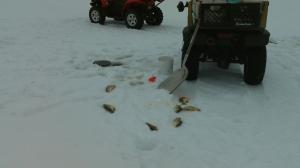 Because of the increase in popularity many lakes are seeing increased winter fishing pressure and more crowding. Not so on most of the lakes here in the Hayward Wisconsin area. And along with the Chippewa Flowage we also guide on several of the other lakes as well depending on what we are after and the ice conditions.
While you can and do see quite a few out the ice fishing on some of our lakes, on many more you're lucky to see another angler out there on any given day, much less a crowd! So why, if you are heading out on a winter fishing trip, would you want to head for one of those lakes where you will find roads plowed on the ice and literally small towns of ice shacks when there are other choices? No crowds and great fishing, sounds good doesn't it?
Then too there are many other waters right in this area that provide great ice fishing. Just a few of the more popular ones are Teal, Lost Land, Ghost, Spider, Twin lakes, Grindstone, Lac Courte Oreilles, and Big Round. You can also find good fishing and you likely will be the only one out there on many other smaller waters right around Hayward too.
Our guide rates are for 1 or 2 people it's $250 and for larger groups we add in $50 per extra person. Because of the shorter days and colder weather we usually fish 5 or 6 hour trips which is what we base our winter rates on.
Give us a call or email us if you would like more information or would like to reserve an ice fishing trip this winter.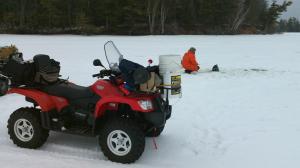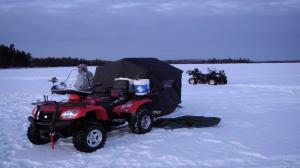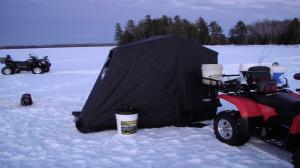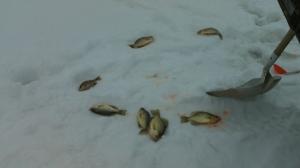 For more info call us at 1-715-462-9402
or E-mail us at