Wisconsin Northland Outdoor Adventures Guide Service
John H. Myhre - WI Licensed Guide
"Guiding anglers in the Hayward area for over 41 years"
If you're looking for the ultimate outdoor experience here in the Wisconsin northland, give us a call. Wisconsin licensed guide for over 40 years and Wisconsin DNR certified angler education instructor. We offer guided fishing trips for musky, bass, walleye, and panfish on many Hayward area waters.
Along with being a guide for the last 41 years we host a popular outdoor radio show and are active member of the Outdoor Writers Association of America and also the Association of Great Lakes Outdoor Writers. In the past have written many articles for magazines like Musky Hunter magazine, Esox Angler magazine, and Midwest outdoors just to name a few. Up untill recently for many years myself and my wife also owned and operated Sportsmen's Lodge resort on Moose lake. 4 decades of helping people enjoy the outdoors, we are now into the 2nd and even 3rd generation with many of our guests!
Member of the Hayward Guide Service with 41 years experience guiding and fishing the Hayward area lakes and hunting in the area including the Chequamegon Forest and Moose lake area where we live.
We can also hook you up with several other top area guides and also offer guiding for groups. We even help you arrange for lodging in the area if you want.

The Bite is on!!!! Reserve a trip today
Now Booking Guided Fishing Trips for Spring , Summer and Fall
1 to 3 person Guided Trips or Family trips
Group or family trips available
RESERVE YOUR GUIDED FISHING TRIP NOW

Smallmouth and Largemouth Bass
Reserve a Smallmouth Bass trip On one of our world class Smallouth lakes.
Call or email now us to reserve your fishing trip
Ph. 715-462-9402 --- Cell 715-558-3812
Email wnoguideservice@gmail.com

ice
We offer both full day trips and a 5 hour afternoon /evening trip
The 5+ hour afternoon /evening trip gets you on the water at the very best time during the summer months! The fish are biting and you are out of the hot summer sun. Subject to limited availability I also offer a shorter 3 hour evening to sundown trip
We have guided trips for musky, walleye, pike, bass, or panfish on Hayward area lakes from my comfortable, 19 foot Lund Impact boat available.
Guided Fly fishing trips available for smallmouth bass and muskies on several lakes as well.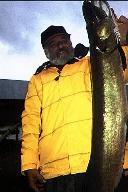 MUSKY FISHING
The Hayward area is known for it's great musky fishing and has many lakes to choose from. Over the years I've had several fish over 50 inches in my boat and to many to count between 42 and 49 inches which were 20 to 30 pound muskies. However while some of our lakes regularly produce some real trophies, others are known for action and produce plenty of action from legal size muskies but with over 30 years of catch and release going on even these lakes are starting to produce some nice fish. Over the last couple years we've caught many mid to upper 40 inch fish from these "numbers" lakes and had quite a few days where we've boated multiple 40+ inch fish.

Even when conditions are not the greatest for catching that big one from one of the trophy lakes, and we all know they are not easy to catch anytime, fishing these "action" lakes produces fish and sometimes a real trophy too.
I fish most of the lakes in the area and catching muskies is usually not a problem on most days, it's just the really big ones that don't always come easy.
A tip on catching Trophy Muskies, There are definitely times of the year and conditions when your odds of catching that real trophy are much greater. If the time is right, like in the fall or under the right weather conditions, go for the "big one",and other times concentrate on just catching legal fish. By doing this you'll learn more, enjoy it more, and definitely catch more muskies.
If you have any questions on the best times and lakes to fish, call 715-462-9402 or Cell 715-558-3812
or E-mail me at wnoguideservice@gmail.com
or

And on YouTube and Spotify with the radio show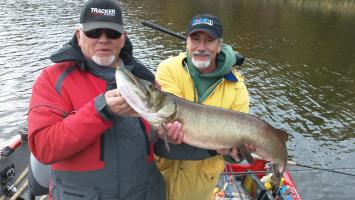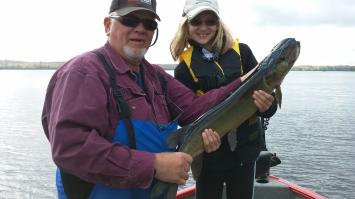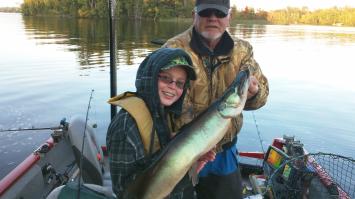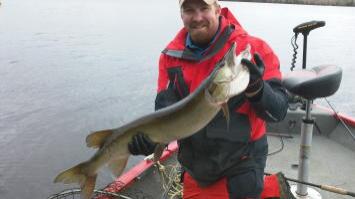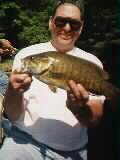 BASS FISHING
One of Northwest Wisconsin's most overlooked fisheries is it's bass fishing, both largemouth and smallmouth, and it just keeps getting better!
Our smallmouth fishing is world class, and it's hard to beat our Largemouth fishing too!
**May and early June and October are often overlooked for Smallmouth as many anglers then concentrate their efforts on other species. However, while we fish all through the season for them too, we usually see some of the very best fishing in those months for absolutely huge Smallmouth bass!**
If you like to catch fish, bass in the Hayward area provide some of the very best action and just plain fun fishing! For example, The Chippewa Flowage not only provides good fishing for musky, walleye, panfish, and northern pike, it has become a fantastic fishery for both smallmouth and largemouth bass!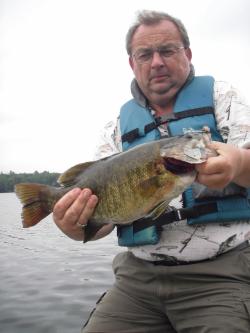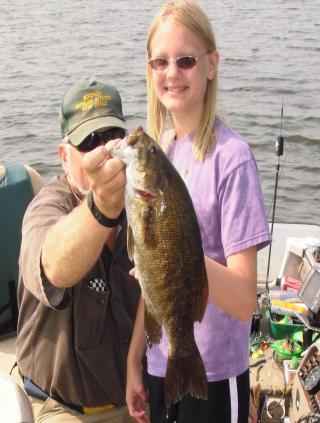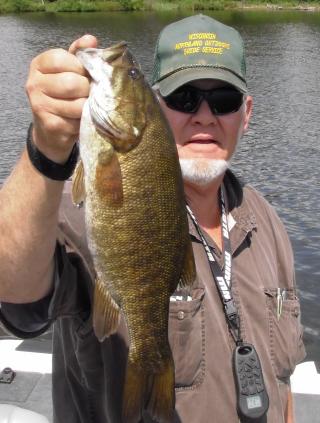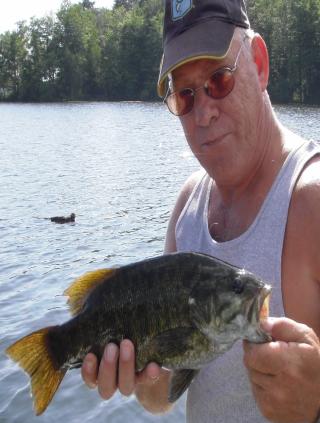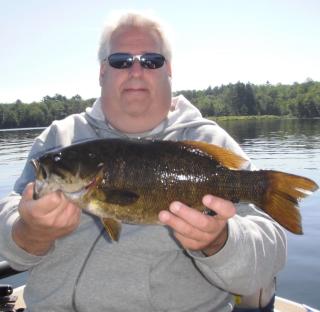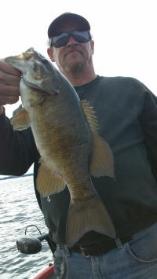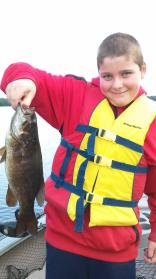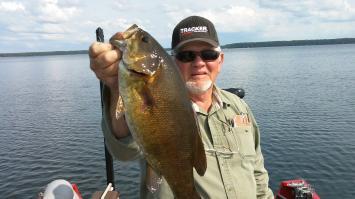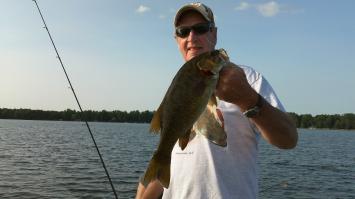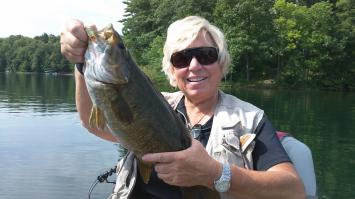 Smallmouth Bass
Many of our lakes provide as good of bassin' as you'll find anywhere and when it comes to smallmouth bass we have a lot of waters that would rank world class smallie fisheries. Every year we catch many of them from 17 to over 20 inches and there are Smallmouth up to 23 inches or larger caught! One of our best Smallie lakes is Round lake where the Smallmouth average around 17 inches or more with lots of fish larger than that. Other top Smallmouth lakes are Lac Courte Orielles and Grindstone. Many of the smaller lakes also produce good Smallmouth action and some big ones too.
Largemouth Bass
Also don't overlook the Largemouth fishing in the area!
Whether you want to fish largemouth on a secluded lake in the Chequamegon National Forest, smallmouth on the Chippewa river, or fish the fantastic smallmouth fishery we now have on many lakes, we'll take you there and I guarantee you'll come back for more.
If you enjoy catching fish and bass fishing you will have a great time here in our area!
WALLEYE, CRAPPIE, and BLUEGILL FISHING
Many of our lakes provide some good walleye fishing, especially in the spring and fall. I guide walleyes on most of the area lakes including the Chippewa Flowage. For the walleyes the 5 hour eveing trips are very popular as they are very productive for walleye fishing. Usually in the Summer I do more of the 5 hour trips, especially with familys
.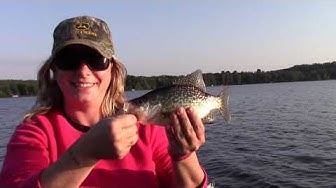 Crappie fishing on a Hayward lake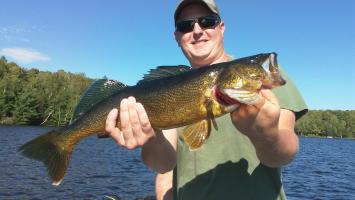 G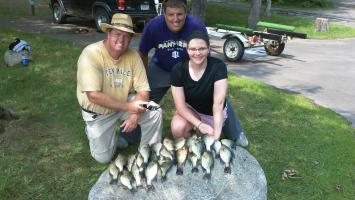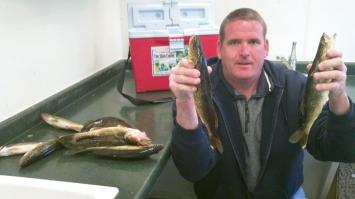 There are several area lakes that provide good panfishing most of the season. Crappie fishing is usually better in the spring and fall but mid summer panfish action can be very good and a lot of fun for family fishing trips. One of my favorite lakes for crappies and bluegills is the Chippewa Flowage but the fishing for them is good on Nelson lake, Teal lake, and several other lakes as well.
I guide from a 19 foot Lund Impact boat and can take out larger groups, for both walleye and panfish I can take up to 4 or 5 people in my Lund boat, but for bass or musky only 3 guests though.



Fishing Electronics, Sonar Educational trips
I also offer instructional trips and can show you how to get the most out of your Humminbird electronics and Minn-Kota trolling motors. Side imaging, down imaging, 2D sonar, GPS, Humminbird networking, and I Pilot Link. I can help you set up your units and show you how to get the most out of them. I have long used Humminbird and Minn Kota units on my guide boats and also have an extensive background in marine service and boat rigging as well as an extensive electronics background including education as a US Navy sonar tech. We can go in my boat or yours or a combination split trip, either way I can show you how to set up and get the most from your electronics and it's features. Just give me a call and we can talk about what you want.
Fly Fishing
We also offer guided trips for fly angling for musky and bass on the parts of the Chippewa river and on several lakes as well. We have some of the best shallow water fly fishing for both smallmouth and muskies you will find anywhere! We can fish the rivers from kayaks or smaller boats but if you want a better chance at at bigger mid 40 inch and up musky, I also guide fly anglers from my guide boats on many of these lakes.
Trophy size muskies. Fly fishing on the rivers is great but don't overlook fly fishing bigger waters. No matter how you fish for muskies, consistantly the larger waters produce larger muskie! I have many lakes we can fly fish on from lakes that produce lots of muskies to trophy lakes like the Chippewa Flowage. And fly fishing from a bigger boat is more comfortable and with it's large casting deck is great to fly fish muskies and smallmouth from.

Open Water Guide Service Includes
I do a lot of 5 hour trips in the after noons /evenings too which is by far the most popular trip.
Full day trips 8+ hours are also available if you want more time on the water
3 hour evening to sundown trips are also available (Subject to last minute availability)
Family fishing trips available
Safe, comfortable big new 19' Lund Impact with Mercury outboard, New Humminbird electronics, and Minnkota motors
All boat expenses (gas included)
Fishing equipment (if needed)
Live baits are extra
Extra services available:
Extra guides for large parties can be booked.
Night fishing trips can be arranged.
Fish cleaning
Winter Ice fishing guide service available on the Chippewa Flowage as well as most of the Hayward area lakes

Things to Bring:
Proper Clothing, Rain Gear, Sunglasses & Fishing Hat, Camera
Valid Wisconsin Fishing License
Rods, Reels, Lures (provided with advance notice)
Lunch For You and Guide (usually at lake restaurant)
Something to drink as it can get hot during the summer months

OPEN WATER GUIDE RATES AND SERVICES 2021
My 1/2 day trips are prime time 5 hour + afternoon / evening fishing trips for $325. That has been my most popular guided trip as it gets you on the water at one of the very best times when the fish are more active and out of the summer heat. Great time to enjoy our waters and great fishing! I do a lot of these afternoon /evening trips every summer as the fishing is almost always great in the afternoon and evening.
Full day trips and shorter 3 hour evening sundown only trips are also available subject to availability at the time, please email or call for information
Rates are based on 2 people but I can take up to 4 or 5 out with an extra charge of only $50 each
In My big Lund I can take up to 4 or 5 guests out for walleye and panfish and 3 out for musky or bass
Rates subject to tax and live bait

Wisconsin Northland Outdoors Guide Service
7596 W. Pine Point Rd.
Hayward, Wisconsin 54843
Phone: 715-462-9402 -- Cell 715-558-3812
E-mail: wnoguideservice@gmail.com
or

ICE FISHING RATES AND PACKAGES FOR WINTER
Guided Ice Fishing Trips
******Ask about Guided Ice fishing packages for groups of 4 to 8 anglers******
Complete package with all gear, ice shelters, guiding and lodging at Mystic Moose Resort
Reserve your trip now while we still have some openings.
WE NOW HAVE A NEW HARD SIDE ALUMINUM FISH WHEEL HOUSE THAT CAN FISH 5 PEOPLE!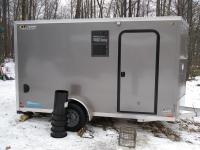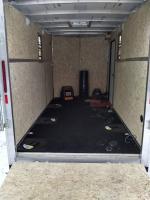 ICE FISHING RATES AND PACKAGES 2020 - 2021
Our fully guided ice fishing packages include
All shelters set up, heated, holes drilled, and ready to fish in. We use both portable shelters and where conditions permit a custom hard sided warm wheel house.
All equipment and gear.
Fish finders and underwater cameras
Holes drilled and tip ups set out
Guides stay with you through the day to instruct and help you
And for larger groups we will even cook burgers and brats out on the ice for you
Often with 4 or more anglers or larger groups you will have 2 guides out with you.We don't charge more for that service as our goal is to provide you with a great day on the ice.
We can also offer semi guided packages as well if you want.
2020-2021 Ice Fishing Rates
Ice fishing rates start at $350 for 5 + hour trips for 2 people- $50 extra for 3rd person, all equipment included. For larger groups of 6 to 8 anglers where there is 2 guides we charge a flat rate of $100 per person which covers both guides. We can help you set up a trip for even larger groups as well. With the shorter Winter days our most popular trip is the afternoon / evening 5 to 6 hour trips as that is the warmest part of the day and most productive time to be out there.
live bait is extra
Guide fees are subject to Wi Sales Tax

For guided hunting rates and dates available please call or E-mail me and we'll get back to you right away.
Guided ice fishing trips also available on many productive Hayward area lakes for walleye, crappie, bluegill, perch, and or northern pike. All equipment and gear is furnished and I use Eskimo brand insulated portable shelters and have portable heaters to make your ice fishing trip warm and comfortable as well as fun and productive. Also we have snowmobiles or a Polaris Ranger UTV to get you out on the ice or we drive out on some of the lakes. And we have added a brand new hard side aluminum fish wheel house that will comfortably fish up to 5 people. For larger groups there will be 2 of us guides working at no extra cost so we can get you on the lake and catching fish faster.
We fish several lakes and Trips are available on the Chippewa Flowage for northern pike and panfish as well. The Chippewa Flowage is the 2nd largest lake in Wisconsin with over 15,000 acres, 233 miles of shoreline, and 140+ islands. The Chippewa Flowage was created in 1924. The damming of the Chippewa River joined the waters of 11 natural lakes, 9 rivers and countless streams. It's shoreline is primarily wild which will never be more than 15% developed. The "Chip" was historicly closed to all ice fishing for many years but now is open all winter for panfish and northern pike. With a huge population of crappies, bluegills, and northern pike and a great wilderness setting, ice fishing on the "Chip" is a very unique experience!
With many groups and trips we often have a couple guides team up to work together for the trip and along with the fishing we can cook brats and burgers out on the ice for you as well if you want.
Live bait is extra and guide rates are also subject to sales tax.
Give me us call or email if you would like more information or would like to reserve an ice fishing trip this winter.


"Warm and comfortable outerwear that also floats"
Our fully guided ice fishing packages include
All shelters set up, heated, holes drilled, and ready to fish in. We use both portable shelters and where conditions permit a custom hard sided warm wheel house.
All equipment and gear.
Fish finders and underwater cameras
Holes drilled and tip ups set out
Guides stay with you through the day to instruct and help you
And for larger groups we can even cook burgers and brats out on the ice for you if you want
We can also offer semi guided packages as well if you want.
Wisconsin Northland Outdoors Guide Service
7596 W. Pine Point Rd.
Hayward, Wisconsin 54843
Phone: 715-462-9402 -- Cell 715-558-3812
E-mail: wnoguideservice@gmail.com
or
Check out our weekly radio show and lots more on these sites

Products & Services we use and endorse


ConTrollKing The original remote throttle for your kicker motor