Snowmobiling - Hayward, Wisconsin
---
---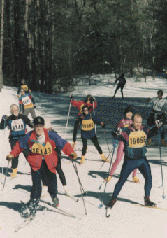 Skiing, Snow Shoeing, Winter Hiking, and lots more!
Well folks, it's that time of year again when we have the choice of sitting around in front of the tube or by a warm fire to wait out the winter, or we can get out and enjoy the winter outdoors! And that's just what a lot of folks do around here.
With long winters here in the north, and with the better equipment and gear we have now days, winter has become a busy season up here once people discovered how much more fun it was than just waiting for spring to come.
Then if cross country skiing or snow shoeing is more your speed, there's countless miles of trails and areas for that too here in Northwest Wisconsin.
On top of that there's some really great winter events, like the American Birke ski race, a truly world class event, and the Walleyes for Northwest Wisconsin family ice fishing contest.
Snowmobiling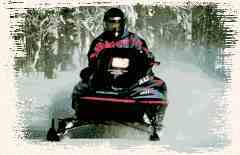 When it comes to snowmobile trails, you won't find a better place to ride! With over 500 miles of trails and countless miles of forest roads, you can always see new scenery.
Almost every snowmobiler in the Midwest is aware of the fantastic winter playground found near the Hayward area of Sawyer County and the Cable area of Southern Bayfield County. Hundreds of miles of wilderness trails provide tours through this area's natural beauty, beckoning riders to return year after year.
The Hayward Lakes region with its rolling hills, hardwood forests, tall pine stands and pristine lakes serves as the hub of the Sawyer County trail system. A journey south from Hayward on Trail 31 takes riders across the frozen Lac Court Oreilles and along Sand Lake before joining the Tuscobia State Trail just east of Birchwood.
This well-known Tuscobia State Trail is also listed as Corridor 10 on the maps. It crosses Sawyer County from east to west passing through Draper, Loretta, Winter and Radisson, as it makes its journey across northern Wisconsin stretching from Michigan to Minnesota.
Traveling southeast from Hayward, snowmobilers are treated to a tour of the undeveloped Lake Chippewa Flowage, Wisconsin's largest wilderness lake. This focal point of Sawyer County was created in 1923 by a power company dam and has more than 17,000 acres of water with 140 islands and more than 200 miles of natural shoreline.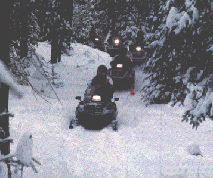 Trails east of Hayward meander their way towards Clam Lake.
Trails lead in all directions in this scenic Chequamegon National Forest region offering unlimited choices. When staying in this area, snowmobiles are the only transportation you will need since almost everything is accessible via snowmobile. Excellent lodging with roaring fireplaces and great food can be found trailside through out this region.
This winter visit Northwest Wisconsin and the Hayward area and find out how much fun winter can be.
For more info or reservations, E-mail us at info@wiscnorthlandoutdoors.com